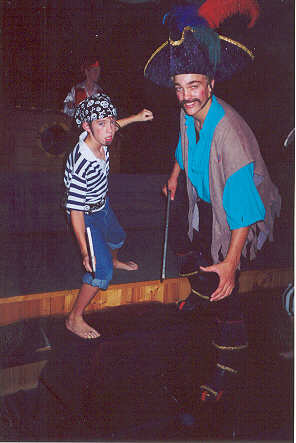 Click here for its 2nd page to 2017.
Click here for the latest, current page.
Director: Jack Bradford (Jack's early web page)
Admin.Office: 9 Windrest Street
Strathpine 4500
Phone: 07 3889 6436 Mob. 0438 896 436
Old Email (no longer in use): JuniorTheatre@excite.com
2006 Productions: Aladdin Guys and Dolls 2006
Toby Awards 2006

2005 Productions: We did King and I on 27 June - 2 July and Music Man 18 - 23 September.
Toby Awards 2005

2004 Productions: We did Joseph on 5th-10th July and Fiddler on the Roof 20th-25th September.Click here (560kb) & here (510kb) to see photos (2048 x 1536 pixels) from "Fiddler".
2003 Productions: The "Pop" Mikado Pirates of Penzance 2003 Guys & Dolls 2003

2002 Productions: H.M.S. Pinafore Annie
Toby Awards 2002

2001 Productions: Pirates of Penzance 2001 Joseph
Toby Awards 2001


Discussion Forum (sortable)
Last Message added was on Saturday, January 7, 2006 in the Main Forum.

Links: Harvest Rain Theatre (2005) Ignatians (2005) Mousetrap Theatre (2005) Savoyards